Siapa yang dua hari ini uda merasakan kejamnya kota Jakarta di kala hujan? Saya! *tunjuk tangan*
2 hari ini ujannya ampun-ampun deh, jalanan juga macetnya ga karuan. Kemaren gua ke Plaza Indonesia masih dalam keadaan terang benderang, pulangnya uda macet dan banjir. Arah ke rumah gua uda macet total ga bisa gerak sama sekali, plus banjir tinggi di depan kampus-kampus tercinta. Yeah, daerah sono emang langganan banjir ya. Maklum, mallnya ada 3 biji sih, hahaha.
Parahnya lagi, pas lagi di jalan gua dapet kabar kalo atapnya Pacific Place roboh gara-gara kesamber petir. Jadilah itu ujan turun di dalam mall. Dan ga cuma PP loh, Mall Semanggi juga banjir, airnya ampe masuk ke mall katanya. Begitu juga dengan Taman Anggrek. Gua ampe mikir, apa kiamatnya pindah ke hari Sabtu ya, hehehe. Kasian aja sih sama orang-orang yang married di hari itu.
Btw, admin twitternya Pacific Place keren loh, ngajarin kita gimana caranya tetep fashionable dikala banjir. Kemaren mereka ngetweet gini "The roof may leak but the shopping continues, check out our great offers on Ground Floor from Tod's, BOSS, Papilon Duo, Canali, on SALE now." Wuih...ini kayak adminnya Titanic ngomong "the ship is sinking and there's a slight possibillity that we're all gonna die...but please check out our spa first, 50% disc now." Ckckckckck *geleng-geleng kepala sajah* Tapi tadi gua liat, tweet yang mengundang kontroversi tersebut uda diapus tuh.
Ngomongin soal banjir, kayaknya gua uda sering banget ngalamin yang namanya banjir. Bermula dari gua SMP kalo ga salah. Itu tiba-tiba aja air uda masuk entah darimana. Tau-tau pas tengah malem bangun, rumah uda kemasukan air. Langsung deh pada panik nyelametin barang-barang. Kulkas, kompor, kasur, semua ditaro-taroin di atas meja makan. Apalagi, waktu itu rumah kita ga ada lantai duanya.
5 taon kemudian, kalo ga salah pas gua kuliah, banjir gede lagi. Rumah gua pun kemasukan air lagi. Kali ini yang pertama kali diselametin adalah opa dan oma gua. Mereka langsung disuruh ngungsi ke rumah sepupu yang jalanan rumahnya tinggi jadi ga kena banjir. Yang ini nih, banyak barang-barang gua yang ga terselamatkan. Salah satunya diary, komik-komik, dan beberapa foto. Semuanya gua simpen di dalem boks trus dimasukin ke kolong ranjang. Lagian waktu itu bantuin nyelametin barang-barang yang lain, jadi ga kepikiran nyelametin diary, hahaha. Ya sudahlah, mau dikeringin juga susah. Jadi semuanya gua buang deh. Kalo komik-komik masih ada beberapa yang bisa dikeringin sih.
Nah...taon ini katanya banjir 5 taonan lagi. Untungnya kali ini rumah gua uda direnovasi, uda ditinggiin juga, jadi ga perlu kuatir masuk air. Cuma sebel aja, jalanan ke arah rumah gua tetep senantiasa kena banjir.
Yeah....Jakarta memang kejam, Jendral. Jadi, enjoy Jakarta aja deh.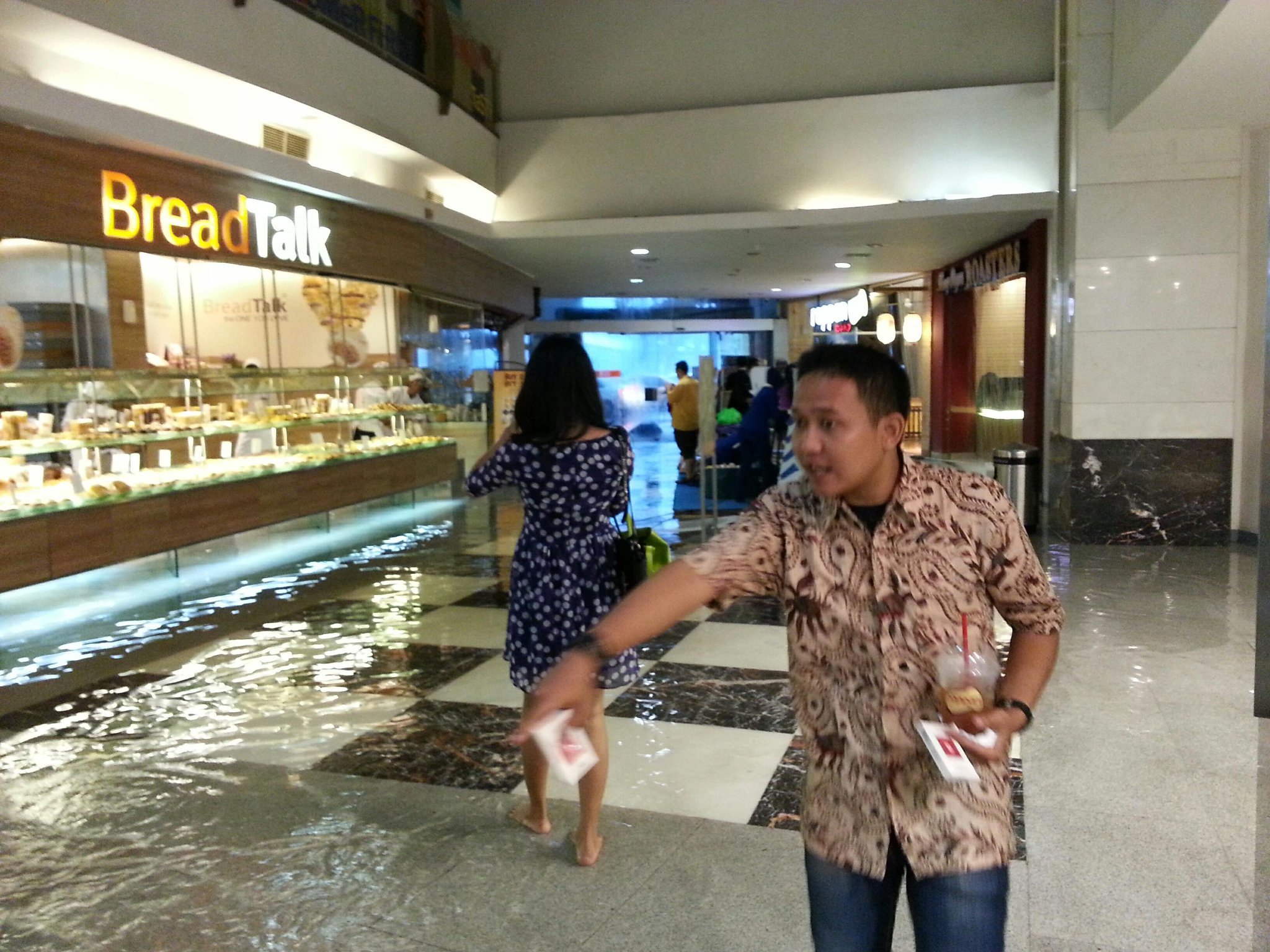 Banjir di dalam mall Semanggi.